The "Sultan of the Sky"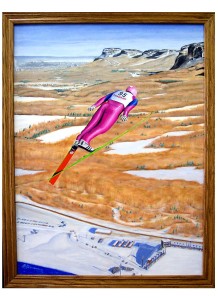 IF YOU ALREADY HAVE THIS PRINT, see the Print Replacement Program.
Old prints can be exchanged at 1/2 retail price, same frame, same number if desired. To maintain the Limited Edition integrity there will be no number duplication, old prints will be destroyed. The new digitally created prints have far superior colour quality and longevity.
This painting became the official print of the World Nordic Ski Championships in Thunder Bay in 1995. The intention of the artist was to convey something of the exhilarating feelings that the world class athletes experienced at Big Thunder while flying through the air at such incredible heights. The City of Thunder Bay, Lake Superior and the Nor'Wester Range create a stunning backdrop.